MATERIALITY – MUSEOLOGY – KNOWLEDGE
CAS Online Workshop
03.05.2021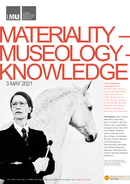 Online-Workshop organized by Ruth Bielfeldt (LMU), Michael John Gorman (BIOTOPIA/LMU), Ulrich Pfisterer (LMU), Philipp Schorch (LMU), Bernhart Schwenk (Pinakothek der Moderne), Philipp W. Stockhammer (LMU) and Uta Werlich (Museum Fünf Kontinente).
This workshop re-approaches museums through their underpinning museology, as epistemological apparatus – featuring spatial modalities, material practices and aesthetic sensibilities – which are constitutive of knowledge and brimming with epistemic potentials to be activated in the pursuit of all kinds of questions. Read more

Participants:
Miro Craemer (Munich),
Hans PeterHahn (Frankfurt a.M./CASFellow),
Ivan Gaskell (Bard Graduate Center, New York/CAS Fellow),
Folakunle Oshun (Lagos Biennial),
Barry Phipps (Cambridge),
Nicholas Thomas (Museum of Archaeology andAnthropology, Cambridge/CAS Fellow),
Margarete Vöhringer (Göttingen/CAS Fellow),
Alexandra Weigand (Munich).
CAS LMU, Seestraße 13, 80802 München, www.cas.lmu.de, Please register via info@cas.lmu.de
Download Poster (159 KB)