EASA Media Anthropology Network Workshop
Decoloniality and the Digital Turn in Media Anthropology
11.10.2019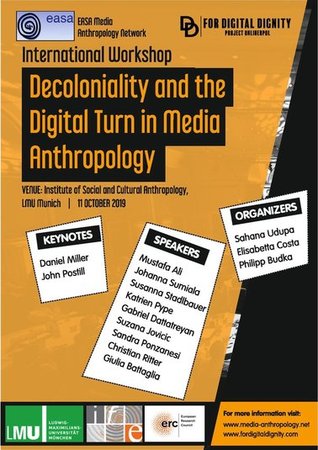 Together with the ERC Project ForDigitalDignity ONLINERPOL (Sahana Udupa, LMU Munich), the EASA Media Anthropology Network is organizing the workshop "Decoloniality and the Digital Turn in Media Anthropology"
at LMU Munich, 11 October 2019. This international workshop continues and concretizes discussions from the Media Anthropology Network 2018 EASA conference panel in Stockholm and the follow-up e-seminar via this
mailing list (http://www.media-anthropology.net/index.php/e-seminars).

In so doing, this workshop contributes to the reassessment of media anthropology in digital times, and raises critical questions on how digital media have posed new epistemological challenges, inspired methodological innovations, and offered opportunities for political activism for media anthropologists. A key question that drives this discussion is whether the digital turn has reconfigured the classic distinction between "home" and "field" through temporally intensified "horizontal" networks on a global scale. Have these connections – culturally translated across different societies – collapsed the distinction between "home" and "field"? As users and researchers of digital media, how do we rework anthropology's classic conundrum of home-field, distance-nearness and us-other in radically progressive
ways? What does the "digital turn" entail in terms of how we engage research participants, and how do we use these new pathways to critique the multidirectional "colonial matrix of power" (Mignalo & Walsh, 2007) that is riding on the very infrastructure of contemporary digital media?
More about Media Anthropology on twitter
Workshop Program
9.30 - 9.45 Sahana Udupa, Elisabetta Costa & Philipp Budka: Welcome and Introduction
Opening Keynote
9.45 - 10.15 Daniel Miller: Us and Them
10.25 - 12.15 Politics of knowledge and methodological quandaries in the digital age (Chair Salma Siddique)
10.25 - 10.45 Mustafa Ali: Algorithmic racism and the politics of knowledge
10.55 - 11.15 Johanna Sumiala & Minttu Tikka: Digital media ethnography: A proposal for research on the move
11.25 - 11.45 Susanne Stadlbauer: Rethinking modes and media: Ethnography and multimodality in religious conversations of refugees
13.00 - 15.00 Digital natives: A decolonial query into subversion and inculcation (Chair Philipp Budka)
13.00 - 13.20 Katrien Pype: Weaving on the net. Ethnographic notes on digitality and politics: Perspectives from the Kinois cyberspace.
13.30 - 13.50 Gabriel Dattatreyan: Digital (decolonial) tactics: Lessons from the Goldsmiths anti-racist occupation
14.00 - 14.20 Suzana Jovicic: Digital natives, migration and social mobility
15.10 - 17.00 Dislocation: Digital flows and (im)mobilities (Chair Elisabetta Costa)
15.10 - 15.30 Sandra Ponzanesi: Digital diasporas: The ethnographic turn in postcolonial studies
15.40 - 16.00 Christian Ritter: Locating tourism media: The story of travel influencers in Estonia
16.10 - 16.30 Giulia Battaglia: Learning from art/film practices of the Global South: Digital platforms of image-making in India and the anthropological practice
Closing Keynote
17.00 - 17.30 John Postill: Chasing runaway media: The anthropology of media control in an uncontrolled world
17.45 - 18.15 Final Discussion (Chair Sahana Udupa)