Areas of research and interest
Economic anthropology, trade and markets; migration, mobility and brokerage; migrant associations, local politics, and sport; sports from an anthropological and ethno-historical perspective; practice theory

Regional areas of interest: South America (in particular the Andean countries, Bolivia), Mediterranean area (especially Spain), Commercial Relations Latin America - China

Publications
List of Publications (45 KB)

Research Project 2019-2021 (funded by German Research Society):
Material Possession and Circulation. Outdated Electronic Appliances in Bolivia and the South-Central Andes
This project explores the transformation and evaluation of outdated electronic equipment in Bolivia and the South-Central Andes. From an economic anthropology and material culture approach, it looks at handling, repairing, recycling and trading of appliances, extracted components and metals. Based on insights from my previous research on the market for electronic appliances in Bolivia and the Andean-Pacific, it analysis the valuation and circulation of residues at a moment of heightened material possession in a historical culture of scarcity and an ecologically fragile highland environment. The project aims to contribute to the literature on material culture, consumption and value in anthropology, and the emergent interdisciplinary field of (electronic) waste studies.
Research Project (funded by DFG (German Research Society), MU 3785/2-1, 2015-2018):
Bolivian Traders and the Market for Consumer Electronics in the Regional and Global Context
The research project deals with the market for electronic devices in Bolivia and transnational commodity chains. I look at the encounter of different actors, Bolivian traders, international intermediaries, and Multinational Corporations, as well as the cultural construction of marketplaces, and the material infrastructure of trade networks. Trough fieldwork at several places – popular commercial areas in Bolivia and (free) trade zones along the distribution chain (Chile, China) – I study how economic globalization is lived and brought into being "from below", by upward mobile economic subjects, both locally and transnationally. The project also deals with intergenerational change among Bolivian trader families and with gender relations. Since early colonial times, Andean women traders are cultural and economic brokers between the indigenous-rural and mestizo-urban world; today they mediate the Bolivian and the global economy.
Project description (in German) (723 KB)

International Conferences
URBAN ECONOMIES
Cultural Perspectives on Grassroots Entrepreneurs and Neighborhood Economies
Department of Social and Cultural Anthropology
University of Munich (LMU)
14-15 July 2016
Conveners: Juliane Müller and Eveline Dürr
More information
ENTREPRENEURSHIP, ARTISANS, AND TRADERS
The Remaking of Latin America-China Economies
Department of Anthropology
University of North Carolina at Chapel Hill (UNC-CH)
1-2 June 2015
Convener: Juliane Müller
More information

PUBLICATION ETHNOGRAPHIC FIELD SCHOOL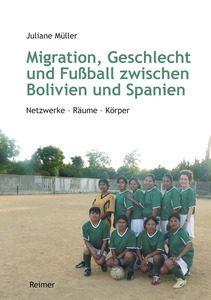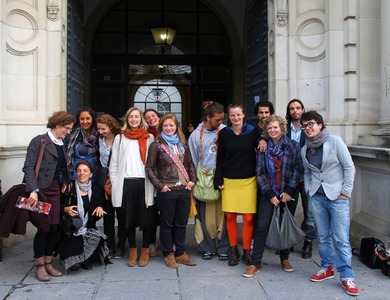 More Information and Reading Sample Ethnographic Field School in Andalusia
in February/March 2013, Report (in German) (275 KB)




Further Information
Education
2020
Habilitation, Ludwig-Maximilians-Universität München (LMU Munich); accreditation (venia legendi) for being university professor in anthropology
2011
Ph.D. at Martin-Luther-University of Halle-Wittenberg (Germany), socio-cultural
anthropology, doctoral thesis: "Migration, Gender, and Football: Bolivian Migrants in Seville,
Spain" (highest honors summa cum laude)
2005
MA at Ludwig-Maximilian-University of Munich (LMU, Germany), book sciences/publishing
2003
Magister Artium at Albert-Ludwig-University of Freiburg (Germany), socio-cultural
Anthropology (major), economics and geography (minors); Thesis: "Cultural Identities and
Civil Participation among Latin American Associations in Freiburg"
1999-2000
Study of cultural and social anthropology at the University of Seville (Spain)
1996-1997
Cultural studies, theatre sciences, and cultural anthropology at the University of Leipzig
(Germany)
Professional and Academic Positions
2019-2021
Research Fellow, Department of Social Anthropology, University of Barcelona
2012-2018
Lecturer, Department of Cultural and Social Anthropology, LMU Munich
2014-2015
Postdoctoral Scholar, Department of Anthropology, University of North Carolina at Chapel Hill (USA)
2011
Instructor, Department of Cultural and Social Anthropology, LMU Munich
Visiting Positions
03/2013
Visiting Instructor, Department of Anthropology, University of Seville, Spain (ERASMUS instructor mobility)
09/2012
Visiting Instructor, Department of Sociology, Universidad Mayor de San Andrés, La Paz (Bolivia)
11-12/2011
Visiting Researcher, Center for Latin American Studies, Georgetown University, Washington DC (USA)
Other activities


Scientific consultant for the discussion series "World Wide: Work – a global debate" (Munich, January to May 2014): paper to download (204 KB)
Non-Fiction Young Editor (Random House Bertelsmann, Munich), Editing Assistant (Kunstmann Publishing House), Freelance Editor (Random House Mondadori, Barcelona; Herder, Barcelona)
Internships and labour experiences in Monterrey (Mexico), Larache (Morocco), Viena, Marseille, Madrid and Seville