Politics of Reconstruction
The Earthquake in Pakistan and Azad Kashmir (October 2005)
In October 2005 a massive earthquake hit parts of Northern Pakistan and adjacent Azad Kashmir (administered by Pakistan). Almost 80 000 people died largely as a result of collapsing buildings and over 3 million people were left homeless. The areas selected for fieldwork, namely Muzaffarabad, the capital of Azad Kashmir, and Balakot, a small town in the Pakistani Province Khyber Pakhtunkhwa, were among of the worst affected in terms of fatalities and the scale of the damage to key infrastructure such as government buildings, schools, hospitals, roads and people's homes. The aim of the research project is to examine ethnographically political processes of the earthquake and reconstruction in both localities.
As anthropological studies of disasters clearly demonstrate, reconstruction is not a self-explanatory undertaking limited to the physical rebuilding of damaged infrastructure or simply returning to the "normality" as it was before the disaster. Rather, reconstruction itself must be thought of as a complex political process with often unpredictable consequences. In the wake of a disaster people's lives are profoundly disrupted by the enormous devastation and painful losses of family members, homes, properties, and livelihoods. In addition, people are also increasingly confronted with national and international relief and reconstruction activities attempting to mitigate the disaster's consequences. Since the state's and international organisations' efforts rarely work "smoothly" and without contradiction and ambiguity, the questions of what should be reconstructed where, how and by whom are often highly contested and hardly ever answered unanimously. Rather, reconstruction is subject to often contradicting perspectives and practices related to the differing needs, interests, priorities and values of various social and political actors. State institutions, international organisations and NGOs participate in reconstruction alongside local political groups, traders, families, households, women and men, attempting to achieve their particular and often conflicting reconstruction aims.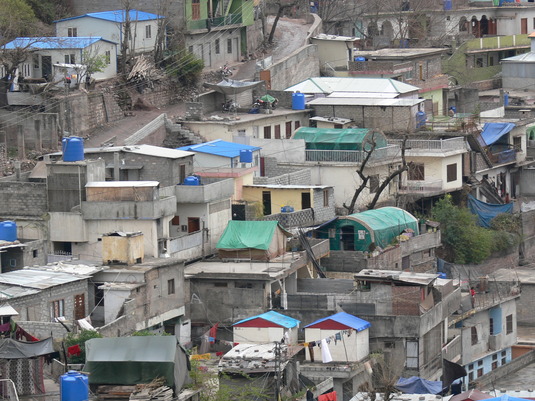 The research project concentrates on "politics of reconstruction" which range from official international and national politics such as the state's disaster administration and its failures in providing for earthquake resistant reconstruction to more informal politics of local traders in the bazaar, their political claims and struggles, as well as to households' perspectives and strategies related to the reconstruction of homes in the context of state policies and housing programs.
Research team: Prof. Dr. Martin Sökefeld, Pascale Schild, MA, Stefan Urban, MA. Start: July 2009.
In cooperation with Prof. Dr. Azam Chaudhary, Quaid-I-Azam University, Islamabad.
Funded by the Swiss National Science Foundation SNF (till July 2010, 100017-121778) and Deutsche Forschungsgemeinschaft DFG (July 2010 till September 2012, SO 435/3-1).
Publications:
Schild, Pascale (2015). Local Politics of Reconstruction along and across Azad Kashmir's border with Pakistan. Contemporary South Asia 23: 2-22.
Schild, Pascale (2011-12). Struggling for Reconstruction: Houses, Homes and "the State" after the Earthquake in Muzaffarabad, Azad Kashmir. Scrutiny 5 & 6: 33-51.
Schild, Pascale 2012. Representations and Practices of "Home" in the Context of the 2005 Earthquake and Reconstruction Process in Pakistan and Azad Kashmir. In: Luig, Ute (ed.): Negotiating Disasters: Politics, Representations, Meanings. Frankfurt, Peter Lang: 205-234.